Motorization, Lighting Control, and Home Automation from Hunter Douglas, Lutron, and
T

he New

QMotion

.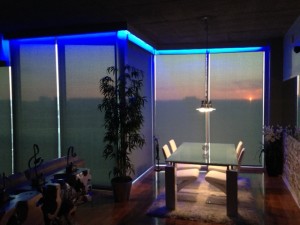 Atlanta Blind & Shade is your local specialist for motorized and electronically driven window coverings. We now have Lutron lighting control too!
---
If you are considering motorized window coverings in your home or other space, please read carefully about what is needed to prepare for this. ESPECIALLY if you are building or remodeling.
---
Pre-wiring for motorized window shades and blinds
Whether we like it or not, home automation is here and is only growing. Discriminating consumers (a.k.a. high end home buyers) expect their homes to be modern and laced with the latest technologies. This now includes motorized window coverings. Low voltage window coverings are what they want and the requirements for these advanced new window covering control systems are completely different than what they used to be with line voltage (110) systems. Below we go into a brief history and comparison of the two systems and why the new low voltage system is the system of now and the future for years to come. Line voltage still has and always will have its place in the motorized window coverings market; however it is now and will forever be extremely limited.
Our goal here is to help you prepare your property in the proper way so when your buyer demands motorized window coverings; you can deliver and deliver better than your competitor. The following information will give you everything you need to move into the future of motorized window coverings.
"Why Low Voltage? Why Now?"
There are basically two power forms available for motorized window coverings, line voltage (110 volt) and low voltage.
For years it was simple. Line voltage is sent to a motor at one polarity to turn the motor one way and then reverse the polarity to turn the motor the other way. This still works and is used widely. There are many different ways to control the polarity to the motor from simple toggle switches with four wire set-ups to radio frequency switches. Line voltage motors get the job done especially when large/heavy shades and drapes need to be moved. There are many negative sides to line voltage:
Requires a licensed electrician to connect the shades to the control system
They are very loud
The switching is set at install and cannot be changed without extensive re-wiring
Grouping is set at install and cannot be changed without extensive re-wiring and expensive line voltage group controllers installed, etc.
Groups of shades larger than eight are very complicated and expensive to control
In the last 5 years or so, in response to the many headaches of line voltage shade systems, low voltage technology has improved ten-fold. The major drawback to low voltage shade systems was their inability to move large or heavy window coverings. That day is over. There, of course, are limits to how much a low voltage system can manage however, the limitations are now the exception and line voltage shades should be relegated to theater drapes and shades for hockey arenas. The advantages of a low voltage system far outweigh any negatives:
Does not require licensed line voltage electricians for wiring (in Georgia and many other areas)
They are quiet and some brands almost silent
Switching can be changed at anytime during or after install
Grouping can be changed at any time during or after install
Groups can be one or infinity number of shades and can be changed at any time
Can be easily integrated into home automation systems at any time
Can be controlled with wall switches, Infra-Red (IR), Radio-Frequency (RF), Contact Closure, or RS232
How to pre-wire properly for low voltage window coverings (and why you shouldn't rely on your low voltage integrator to get it right) – The most significant difference, and the one creating most of the problems we see today, is that wiring for low voltage window covering systems is completely different than for line voltage shades and there is no standardized system (yet) between manufacturers. Like home automation systems, there are many brands and they are all different and all have different requirements. This is where we come in and can help you. We have spent years learning all of the emerging systems and know which one will work best for which application and how best to install the system from beginning to end so that the end user receives the exact performance they were expecting.
"What can and cannot be motorized?"
Actually, there isn't much that can't be motorized. Let's look at the most popular products and their options.
Roller type shades:
Screens*
Blackout/Opaque
Silhouettes®
Vignettes®
*Roller Screen Shades vs. "Mechoshades" – Like Kleenex and Band-Aid, the brand of "Mechoshade" has become synonymous with a screen type flat fabric shade that rolls up on a tube. Every Starbucks in the world has them. The Mechoshade company may make some of these; however they aren't really "mechoshades" they are technically solar or screen shades. Regardless of what you call them, they are quickly becoming the shade of choice for many homes and businesses. They have a simplicity that many new home buyers are wanting in their designs. More important and practical, they don't gather dust like the wood blinds that have been de rigueur for the last 15 years. We are so happy this fad is finally passing along with Plantation Shutters.
Cellular & Pleated Shades (Duettes®)
Roman Shades
Drapery & Luminettes®
Blinds Tilt Only
Blinds Tilt and Lift
These can be motorized however; we don't recommend doing it
"How can ABS help?"
Trying not to be too brash about it, call us first! Too many times now we have received a call from a new home buyer, remodeler, or builder asking us to come out and help them order the motorized shades now that they are almost done with the project. Nine times out of ten we have to be the bearers of bad news and explain that what they want is not possible with what they have already done. We can make it work however; their will have to be major compromises or major remodeling done (walls cut open, new wiring pulled, etc.) in order to deliver what they are looking for. If they had only consulted us in the beginning, this wouldn't have happened.
We aren't going to attempt to explain how to pre-wire or prepare for a motorized window covering system in this article. There are just too many possible options. If you are considering a system like this (which you should) then simply give us a call and we'll ask lots of questions and then give you our best to help you succeed. Call Jayson Smith at ABS, Inc. 770-512-0206 ext. 22
"What kinds of home automation systems can control window coverings?"
All home automation systems work with motorized window coverings. Some better than others but all will if done properly from the beginning. Below are some questions you may still have and some answers. If you still need more info, please call Jayson Smith at ABS, Inc. 770-512-0206 ext. 22. He is our Moto Guru and will be more than happy to help.
Here is a list of some of the systems that are popular today
Crestron
AMX
Elan
HomeWorks
Control 4
"What if I don't have an automated system and still want to motorize some or all of the window coverings on a project? "
Still not a problem. All of our systems are designed to stand alone and/or to be integrated into other systems.
"What systems do you work with?"
"What are the different types of control systems and/or integration?"
Wall Switches
Remote Controls (RF & IR)
Contact Closure
RS 232
Serial Interface
Infra Red (IR)
Radio Frequency (RF)