It doesn't matter what you call them, Mecho-Shades, Solar Shades, Solar Screens, Screen Shades, the need is the same. You need some control over the sun's powerful heat and glare. Solar shades are neat, compact and stay clean. They are perfect for residential and commercial spaces. Whether motorized or manually operated, they are simple and will last a very long time.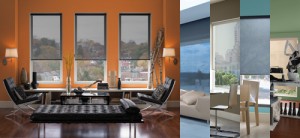 ALERT! We are now a distributor of the best new innovation to come along in quite some time. QMotion battery powered roller shades. Quiet, simple, and with batteries guaranteed to last 5 YEARS!
These shades come in a variety of "openness factors" (OF) which allows you to use different OF in different parts of the space in order to find the right balance between keeping your view and controlling the sun. We carry many different fabricators of this product. Lutron, Hunter Douglas, Draper, and Castec to name a few.